Kathmandu - This week multiple news and letters to the editor were reported on the new curriculum for grade 11. Other news included schools shut down from extreme weather conditions in Saptari and Rautahat and reopening schools inside Kathmandu valley have started reopening after 10 months.
- News stating that classes of grade 1 and 11 will be taught according to the new curriculum in the current academic session was reported in the media. A writ petition filed in the Supreme Court against the implementation of the new curriculum was rejected, stated the news. In the new curriculum, compulsory and elective subjects have been arranged in class 11 and 12 by abolishing the faculty system. Private school operators are dissatisfied with the curriculum since its inception.
A writ petition was filed in the court after the government ignored their demands and pushed for implementation of the course. News also stated that Higher Institutions and Secondary Schools' Association Nepal (HISSAN), an umbrella organization of private schools teaching up to Grade XII, has stressed that the new curriculum envisioned by the government for grades XI and XII will add more burden on students and schools. HISSAN officials have been saying that if the new curriculum is followed, students who wish to pursue their university level in science are required to choose at least one more subject such as mathematics or biology in Grade XI. This means that if any student chooses to study math, s/he will have to study at least seven subjects, stated the news.
- An editorial following up previous week's news on students deprived of examination for not paying the fee in National Medical College, Birgunj stated that the incident has exposed a dark side of the country's medical education and has seriously attacked the state's efforts to build an egalitarian society by upholding social justice. A letter to the editor expressed that the incident is unjust and unforgivable as the college is run by a central member of the CPN (Maoist) headed by Prime Minister KP Sharma Oli. The letter expressed that rejecting the orders of the Medical Education Commission and the Dean's Office, which is chaired by the Prime Minister himself, has raised doubts as to whether the Prime Minister has any investment in the college. The writer called the government to immediately revoke the affiliation of the medical college.
- A piece of news stated that the Learning Continuity Campaign has been launched in collaboration with different organizations, including Nepal Teachers' Federation and Community School Management Committee Federation of Nepal to give the momentum for schooling after re-opening keeping the post Covid-19 situation in mind.
- The news stated that Saptari's Saptakoshi Municipality has decided to close all schools across the local level for a week in view of the extreme weather condition from cold weather. Another news stated that the local administration ordered closure government and private schools for three days for the same in Gaur, Garuda, Paroha, and Rajpur municipalities of Rautahat for. According to the municipalities, they had to take the decision as teaching-learning activities had become almost impossible due to the 'bone chilling cold'.
Teaching learning activities are likely to be affected in extreme hot or cold weather conditions. While the school infrastructure also plays a vital role in creating an environment for teaching and learning, the increasing impact of climate change and related climatic disasters and weather patterns should also be kept in consideration.
- News stated that all Municipalities in Schools across all local bodies inside Kathmandu Valley instructed reopening schools after 10 months closed due to the COVID-19 pandemic. The government in mid-November had authorized local governments to allow schools to decide the reopening of schools as per the COVID situation in the area. Schools have started calling students of grades VIII, IX and X, who had been taking online classes to be physically present at the schools, stated the news. An editorial expressed concern stating that once school starts, it will not be easy to have the students maintain safety procedures thus, all the stakeholders have a role in seeing that the children's health is well protected during this time of the pandemic.
- An opinion article shared about the compulsory vocational classes in India and its benefit in writer's life. It also said that the present curriculum of vocational education till class 8 is unscientific and impractical. The writer also suggested that such vocational education should be extended till class 10 to encourage students to be entrepreneurs. The writer also suggested vocational education teachers and schools to collaborate with local stakeholders and business communities for effective implementation of the classes.
- The news stated about the school infrastructure affected by monsoon disasters such as floods and landslides. It stated that after Navchetana Primary School in Suprang of Dhorpatan Municipality-9 was swept by flood, local youths in leadership of the School management committee started fundraising campaigns in the country and abroad for rebuilding school. The photo below also carries similar story. Another news stated that the Students of Jajarkot Technical School in Kafalchaur, Bheri Municipality-5 have been forced to study under the open sky due to lack of infrastructure.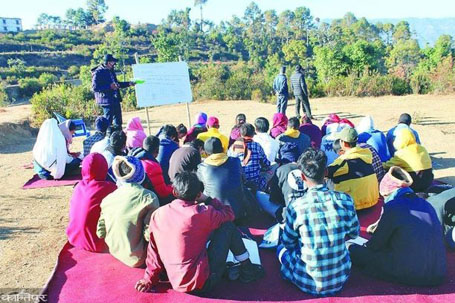 Picture: A picture of students of Jajarkot Multi-Technical School in Kafalchaur, Bheri Municipality-5 being forced to studying under the open sky. due to lack of infrastructure as reported in Kantipur Daily on 17 January 2021. While students have the right to get decent infrastructure for learning, it is projected studying under sky as something backward whereas students should learn outside as much as possible and it should not be perceived as being backward. It just shows our narrow notion of education meaning studying books for exams.
- Other news reported by the media this week included 44 contestants have applied for the post of Vice-Chancellor of Kathmandu University (KU); online education fair organized by Educational Consultancy Association of Nepal (ECAN); special section dedicated on the opportunities for students for higher studies abroad; School kids assisted in Saptari; and Delhi (India) schools to open next week.
Abbreviations:
COVID- Corona Virus Disease, RM- Rural Municipality, TU- Tribhuvan University, KU-Kathmandu University, AFU- Agriculture and Forestry University, MoEST- Ministry of Education, Science and Technology, TUSC- Tribhuvan University Service Commission, NGOs- Non-Governmental Organizations, TUSC- Tribhuvan University Service Commission, CDC: Curriculum Development Centre, ECD- Early Childhood Development, SEE- Secondary Education Examination, SC- Supreme Court, VC- Vice Chancellor, NEB-National Examinations Board
'Education this Week' is a joint effort to analyze the press coverage of education in Nepal's selected print media published in Kathmandu (Online scanning was stopped due to the shortage of staff time from last week - apologies with the readers). The main aim of this effort is to identify and explain major education issues picked up by the media and give back and foreground the news. This, we believe, will help policy makers and other responsible people to keep abreast with ongoing concerns and discussions on and around education. EduKhabar, in collaboration with the Center for Educational Policies and Practices (CEPP), has produced this analysis based on the news printed in Kantipur (Nepali) and The Himalayan Times (English) between 13-19 January 2021 (29 Poush-6 Magh, 2077) - Editor.
Read this analysis in Nepali : नयाँ पाठ्यक्रम कार्यान्वयनको अनुमति