Kathmandu - This week the news covered stories of the rise of students shifting to public schools across Nepal, reports of World Bank's approval of additional financing to support the government's School Sector Development Program, international news of protest by public school teachers in Sri Lanka. Opinion article on raising gap between public and private schools, follow up news on Medical Education Commission soughting clarification from the National Medical College for restricting some students to fill exam forms, raise in self-employment after vocational education was introduced in some rural municipalities, government intensify its work to make community schools tech friendly were also covered this week.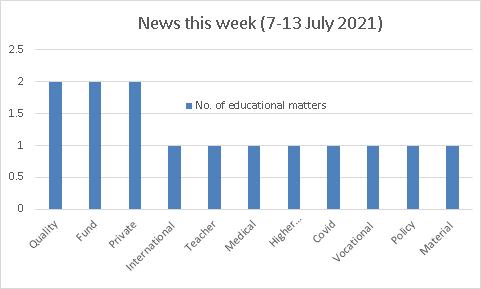 - The news reported multiple cases and stories of students being transferred to public schools from private schools across Nepal. The news quoted parents stating that the public schools have improved their standards becoming exemplary in many municipalities. It also shared stories of students themselves trying to join public schools. Many cases in which students were on the waiting list to join public schools due to limits of the school capacity were also reported in the news.
The news also stated that some municipalities have raised the standard of public schools so much that students are joining their public schools from other regions as well. It specifically mentioned schools in Rupandehi to be popular in the region. News also stated many cases where parents had returned to their home villages from cities due to COVID, and thus causing the rise of students in public schools in rural municipalities. Cases of some rural municipalities like Chhatradev Rural municipality where all public schools have English medium and computer classes were also reported. Due to lack of internet access in rural setup, schools of rural municipalities had practices teaching in open fields in the last lockdown, and plan to continue those practices, reported the news.
The news had also quoted a School Management Committee president stating that they have succeeded in challenging the concept that public schools can't compete in quality with private schools through improvements in multiple fronts.
- News stated that the World Bank's (WB) Board of Executive Directors approved two separate additional financing of $50 million each to support the implementation of the government's flagship School Sector Development Program, and improve efficiency in the public resource management systems of Nepal's health sector. According to the WB, the additional financing to the School Sector Development Program will help reduce dropouts and mitigate learning losses by supporting pro poor targeted scholarships, pro-science scholarships, and catch-up programs, stated the news.
- An opinion article expressed concerns on the rising gap between private and public community schools, with the latter mostly catering to the needs of the less affluent families and the former instead focusing on high quality education that, in most of the cases, is everything but affordable. The writer suggested that if the country wants to enhance the inclusion of the most vulnerable children, it is essential to invest in national scholarship programs, whose access mechanisms and benefits are going to be properly communicated throughout the country, professionalizing the role of teachers with more benefits based on higher performances, and better infrastructure through a massive investment plan.
- The news of students studying MBBS on free scholarships has been barred by the Birgunj-based National Medical College from filling up the examination application form continued to be followed this week. The news further stated that Tribhuvan University Institute of Medical Studies (IOM) and the Medical Education Commission have sought clarification from the National Medical College after the examination forms were not allowed to be filled.
- A piece of news covering the stories of students stated that vocational education in the Makwanpurgadhi rural municipality and Raksirang rural municipality-6 is providing employment opportunities in the village. The news covered that many of the students in these municipalities were engaged in commercial vegetable farming, technicians and cultivating vegetables and raising livestock on their own.
- Another news article stated that computer and internet connection work has been intensified to make community schools technology-friendly. In the current fiscal year, Rs. 46 million 50 thousand (४ करोड ६० लाख ५० हजार) was allocated to 51 community schools for the Presidential Educational Reform Program. The money would be spent on the construction of a computer laboratory, construction of classrooms, toilets with drinking water, library and science laboratory in the schools selected by the Ministry of Education, Science and Technology, stated the news.
'Education this Week' is a joint effort to analyze the press coverage of education in Nepal's selected print media published in Kathmandu. The main aim of this effort is to identify and explain major education issues picked up by the media and give back and foreground the news. This, we believe, will help policy makers and other responsible people to keep abreast with ongoing concerns and discussions on and around education. Unfortunately, we are sad to inform our readers that this weekly report will be stopped from this week. EduKhabar, in collaboration with the Center for Educational Policies and Practices (CEPP), has produced this analysis based on the news printed in Kantipur (Nepali) and The Himalayan Times (English) between 7 - 13 July 2021 (23 -29 Asar, 2078).
This edition of the 'Education this Week' will be halted until further notice - Editor.