Kavre - We need resources to maintain the quality of our work. The standard quality is always dependent upon finance. This same rule applies in education too. Therefore, only we can ensure quality education if there are adequate resources. But how to identify and manage those financial resources, it is still a big question in Nepal.
There have been many debates on strengthening the quality of secondary education that now falls under the jurisdiction of local governments. Chandramani Kafle, a teacher of Kavre based Indreshwor High School says the local bodies should identify different resources and take bold steps to institutionalize the educational rights enshrined in the constitution.
"The trucks are carrying stones and boulders from our place, we can charge them revenue. We can charge revenue from public buses that move every now and then and spend that amount for education. Apart from this, we can collect tax from business sector, industries and spend that amount for the welfare of schools and students."
He further argues that the Panauti municipality should have special focus on the task. "It is not challenging to gather funds, but it is difficult to manage it properly."
Another teacher Manju Thapa says she is worried about the quality of education following the handover of educational rights to local bodies. She says the local governments should focus on generating funds to ensure quality education. 'Even schools can rent property belonging to them or additional buildings located near the premises of schools for commercial purpose to generate resources," she adds.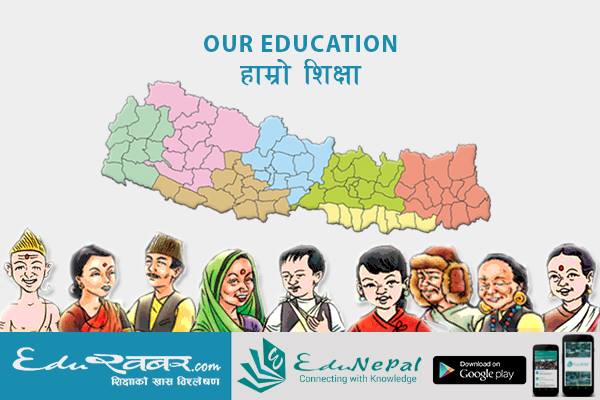 The constitution states that the basic education is the fundamental right of every citizen and it should be provided free of cost. But Thapa says parents must also be asked to pay a small amount of money to make them more accountable in meeting the goals of quality education. Her next idea includes running fisheries and other entrepreneurial activities with an aim to give quality education to students. She also suggests creating a fund for education by collecting a small amount of money from teachers.
Principal of the school Umarudra Basnet says the transfer of educational responsibility to local governments is a positive step however the central government should not deviate from its responsibility to support education. He says, "The central government should not just impose all its responsibility to local governments, the state not only the local bodies should look after the school local education. In all places, the local bodies cannot arrange resources to operate schools," he adds.
Another teacher Ramesh Mainali recommends schools to take initiative to implement the new right. He said the schools should also work towards resource generations by renting their properties and facilities among others. The income from such sources, he says, should be used to finance teachers and quality of education.
Mayor of Panauti Municipality Bhim Neupane says a separate educational wing has been put into place to look after schools located inside the municipality. He says, 'the quality of education in community schools is eroding. There is no cordial relationship between local population and the teachers. We are working to ensure that. We will bring new laws and make decision on merger of schools, we are also considering exchanging teacher of one school with that of another."
He stated that municipality would construct two schools every year and his officials are working to ensure the funds for that task. "The municipality should pay attention about the situation of schools, we should analyse the number of schools, teachers and students and make decision on necessary requirements. The municipality would make adequate investment to enhance the access of education in poor and marginalized communities."
This report based on radio programme entitled 'Hamro Sikshya' which discusses the opportunities and challenges in public education in the new federal setup. The radio programme can also be tuned through this link: http://www.edukhabar.com/audio/43 and also through aneroid app Edunepal.