Kathmandu- This week the media consisted of news about the policies presented in the government's plan and multiple news about different forms of corruption in higher education institutes including case of land grab, and appointment of relatives of officials in open competition by TU service commission. A news about a student with physical disability being rejected in school was a well followed story this week.
- Minister of Education, Science and Technology Giriraj Mani Pokharel was reported to state that though local levels were responsible for school education, appointment of teachers should be made only through the Teachers Service Commission. He said the central government had developed a mechanism to take immediate decision whenever there was a lack of teaching manpower in the country. Referring to the current trend where several local bodies are appointing new teachers or transferring them, the minister said that teachers' management would be difficult if their appointment was made through means other than the TSC's selection process. Temporary teachers who have failed the internal competition will be given a golden handshake with facilities they get this fiscal. Public Education Strengthening Decade has been declared in government's policies and programs for coming year, the minister said, adding the government's attention would be toward improving the quality of education at community schools. Stating that a proposal has been presented to the Council of Ministers to formulate National Education Policy on the basis of a report submitted by the High-level National Education Commission 2018.
- An opinion article discussed the difference between private and public schools. It mentioned that historically private education was meant to produce social elites who could preserve and advocate distinct religious, social and cultural values. However, in the last few decades, global educational agendas and neo-liberalism are the two major push factors that have led to privatization in education. UN programs, such as Education for All and the Sustainable Development Goals, put pressure on countries to fulfill their commitments of access to education for all and equity in access at the same time. While privatization provides immediate remedies, the article argues, academics and practitioners are divided on whether they fit the purpose of education today. According to the Ministry of Education, 15.8 per cent of all enrollments at the basic education level (grades1-8) are in private schools and 29 per cent in higher secondary schools. In Kathmandu, nearly 70 per cent of the pupils attend private schools. These private schools are delivering much higher quality education to the students compared to their public counterparts the writer states. These private schools have challenged the country's capacity to deliver equitable education, based on social justice. The major differences between public and private schools in Nepal is the language of instruction and communication. Secondly, public schools have little resources, especially in the rural areas. Thirdly, teacher motivation in public schools is lower than in their private counterparts, leading to teachers' absenteeism and lower performance. Fourthly, parental pressure on public schools is lower because parents of private schools have a much greater stake in their child's education. Privatization
- of education in Nepal has resulted in high tuition fees, large class sizes, less qualified teachers and part-time (non-committed) teachers.
The article states that thought privatization of education has become inevitable in most developing countries, the international goals direct us towards ensuring a better public school system to ensure equity and socially just future. The article argues that schools should .
- The news about schools shut for 'yarsa' collection was reported this week as an annual coverage on this season. With both students and teachers ascending the highlands to collect the medicinal herb 'yarsagumba', most of the schools in the upper regions of Bajhang have closed. Schools in Saipal and Surma rural municipalities have pulled down their shutters as students and teachers stopped coming to schools from mid-April after the final term examinations. The schools will be closed for three months due to the yarsa collecting season. People in the upper region of the district mainly depend on yarsa for their livelihood. Villagers including children go to high meadows of the region in pursuit the rare aphrodisiac fungus, tagged 'Himalayan Viagra', The annual rush to harvest Yarsagumba is likely to empty many rural municipalities in the region, locals said.
This year as well, the news about school shutdown for yarsa season had a negative connotation for the negative impact in academic year, while the scope of contextualizing the curriculum or the school annual plan wasn't discussed in this year's news report as well. The scope of practical lessons about science, maths or finance in this annual student's trip for the yarsa season could be utilized for skills and knowledge exposure, if the school curriculum were planned to the local context of the districts. Such, efforts has not been reported or suggested in any media report though the news gets annual coverage each year.

- A news stated that Political leaders will gain more control over universities as per the new amendment bill. The new amendment will give Prime minister and Education Minister more authority to investigate, give orders to assign and change office staffs of the university. The government is in attempt to amend this policy of multiple universities at the same time. While, this news was reported, news of corruption by TU service commission officials was also reported this week. Open competition taken by TU service commission publishes results with names of mostly relatives of the officials. This was followed by news of protest against the officials calling for action.
There has been many reports and opinions in the media recommending sovereignty of university to ensure quality in higher education. Reports in the media has directly linked the political intervention as one of the factor for the failure of the higher education in Nepal. Sadly, the present government recommendations signal that the government will put its efforts to strengthen its control over the academic institution further more.
- A news report stated that there were 60 corruption charge complains against medical colleges in Education and Health Committee of the Parliament. The complains were against most of the medical colleges affiliated to TU and KU. Most complains were about additional fees and the compromise in quality. Even past students have complained that the administration had failed them for up to 4 times for not submitting additional fee charges in the past.
- A news report covered the story of a student denied admission by school for the reason of being physically disabled. The child was later admitted in the same school. An editorial was also dedicated to the subject. The editorial stated that discrimination against people with disability was prevalent since the early age in Nepal. It states that the local, provincial level government needs to ensure that the schools become prepared to be inclusive and accessible to people with disability. This is a lesson the school systems need to learn first. The news stated that there is need to establish a survey center for people with disability first, at local levels to know the statistics at local level to ensure that their access to facilities including education was ensured.
There were news about sexual harassment claims against teacher this week as well, multiple news about private school building being built in public land, news about students still in temporary shelter after four years since earthquake made it in media this week.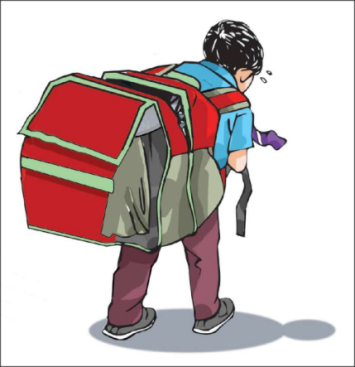 Figure 1: An art presenting a school student with heavy bag from Kantipur daily May 11-2019, Baisakh 28- 2076
A news about the unaddressed issue of overheavy bags for students at early age was reported this week as well. The article stated about the lack of awareness about its impact among parents. The new also stated the unscientific approach the government has taken to prevent overloaded bags calling for a more scientific approach.
'Education this Week' is a joint effort put to analyze the press coverage of education in Nepal's print media published in Kathmandu. The main aim of this effort is to identify and explain major education issues picked up by the media and give back and foreground of the news. This, we believe, will help policy makers and other responsible people to keep abreast with ongoing concerns and discussions on and around education. EduKhabar, in collaboration with the Center for Educational Policies and Practices (CEPP) , has produced this analysis based on the news printed in Kantipur (Nepali) and The Himalayan Times (English), Dailies, Himal Weekly(Nepali) and BBC.com (international online portal) between May8-14 , 2019 (Baisakh25-31, 2076) - Editor.
Read last week's analysis : Government's commitment for Quality Future of Public Schools
Read this analysis in Nepali : शिक्षामा भ्रष्टाचार र शैक्षिक समावेशिकरण