Kathmandu - This week multiple cases of corruption in higher education were reported in the media. Reports of local governments lead in mother tongue education and local curriculum was also reported this week. There were multiple news and opinion articles about the sorry state of Tribhuvan University. This week a serious case of fetal physical punishment by teachers in school was also reported. A news about public schools able to fund raise through religions event was also uploaded in the media this week.
Abbreviations: MOEST- Ministry of Education, Science and Technology, TU- Tribhuwan University, TUSC-TU Service Commission, KD-Kantipur Daily, THT- The Himalayan Times, SEE- Secondary Education Examination, BPKIHS-BP Koirala Institute of Health Sciences, CIAA- Commission for the Investigation of Abuse of Authority
- Students of different medical college were reported to begin different form of protest against extra fees and irregularities in medical colleges. Students of Chitwan Medical College staged a demonstration accusing the college of charging students more fee than the amount fixed by Tribhuvan University Institute of Medicine in Bharatpur, Chitwan. Students of MBBS first, second and third year participated in the demonstration. They complained that the college administration did not provide them the receipt of the extra fees they charged and also that the college asked the students to pay the fees in cash. Amid students protesting against irregularities in calling for seat at BPKIHS, CIAA books former vice-chancellor of BPKIHS, seven others for graft. The CIAA filed corruption case at theSpecial Court against former vice-chancellor ofBPKIHS and seven others,including two equipment suppliers. Six of thedefenders are former or current employees ofBPKIHS.Defendants include former director of BPKIHS, former BPKIHS registrar, BPKIHS Registrar, BPKIHS Accounts Chief, BPKI- HS Deputy Manager. Students of Pokhara University have also been reported to be in strike against irregularities in staff appointment process.
The leadership taken by the students against the irregularities in academic institution is a positive change happening in the society and in particular in the medical education sector. It can be realized that such irregularities have been happening for a long time, but only recently have the students been taking stand against it. Particularly in the medical education sector, recent turn out of events where corrupt officials have been condemned by the court, students (growingly apolitical groups) have been raising voices against corruption.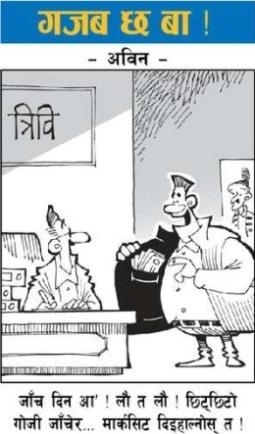 - A cartoon published in KD this week indicated corruption in exam and irregularities in publishing mark-sheet in TU. The cartoon represents a scene from TU office. There is an examinee who have come to the office for examination. In the cartoon students is offering a load of cash in the inner pocket of his jacket and quoted as saying, "Have come for exam. Please quickly examine my pocket and publish my marksheet."
- A news of death of an student due to physical punishment by teachers has been reported this week. This is the most shocking news on the practice from this year. A student, who was allegedly beaten up by teachers at a private school, died while undergoing treatment, in Bhimdatta Municipality, Kanchanpur. A thirteen year old, a ninth grader at Shree Mahakali Bal Vidyalaya in Bhimdatta Municipality died while undergoing treatment. Police has nabbed four teachers, including the school principal. Earlier as well, Madhav's family had filed an attempt to murder case against four teachers, including the principal, at District Police Office, Kanchanpur. Police had then mediated between the teachers and parents, and the school had agreed to bear all the expenses for Madhav's treatment.
The frequent reoccurring of the incidents of physical punishments that appear in the media, only when such extreme incidents occurs, indicate that the practice of physical punishment is wide spread with no strict regulation against teachers practicing it, unless serious consequence takes place. This also calls for a research to identify the ratio of schools where students in reality do not feel threatened or fear to go to school, and where there are physical punishment practices. This also proves that the government policy of child friendly school is limited on paper while student haven't been able to experience change in reality.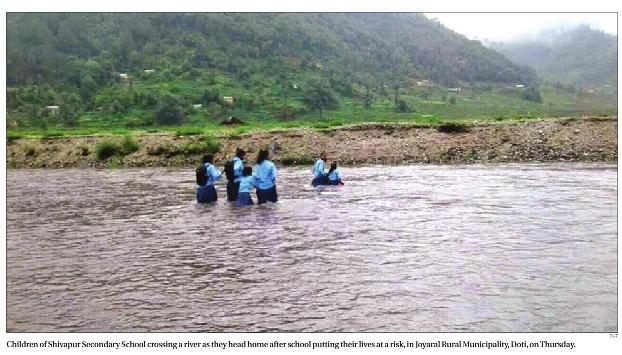 - A picture of students of public school from Joyaral rural Municipality crossing a swollen river as their everyday route from school was covered in THT this week. The picture represented a glimpse of the cases of the struggles of the students in rural area who are mostly in public schools. Such challenges are taken for granted when performance is compared between private and public schools only through numbers in exams such as SEE.
- The Prime Minister KP Sharma Oli's statement to penalize erring TU officials was reported this week. PM Oli warned of stern action against erring officials of Tribhuvan University. The country's oldest and largest university has been drawing flak for its poor infrastructure and dismal academic performance reported the article. The news was followed by letters and opinion articles questioning the level of political commitment of the government in the matter. There were multiple opinion articles dedicated to the degrading stake of TU, and the role of political interest that has failed the largest academic institution to maintain its dignity and progress in academic sector. An opinion article states this was the deepest fall of academic standard of higher education in Nepal.
Other matters reported this week include a news stateda government sub-committeeformed to study the possibility for revising the fee structure of medical education in the country, had recommended new fee structures for MBBS and BDS programmes. The committee has recommended new fee structures for medical colleges. Incidents of sexual harassment by teachers was discussed in the letters to editor this week as well. News of Tarkeshwore and Sankharapur municipality to start teaching local curriculum from this year was also reported.
'Education this Week' is a joint effort put to analyze the press coverage of education in Nepal's selected print media published in Kathmandu. The main aim of this effort is to identify and explain major education issues picked up by the media and give back and foreground of the news.This, we believe, will help policy makers and other responsible people to keep abreast with ongoing concerns and discussions on and around education. EduKhabar, in collaboration with the Center for Educational Policies and Practices (CEPP) , has produced this analysis based on the news printed in Kantipur (Nepali) and The Himalayan Times (English), Dailies, Himal Weekly(Nepali) and BBC.com(international online portal)between July 10-16, 2019 ( Asar 25-31, 2076)- Editor.
Read this analysis in Nepali : उच्च शिक्षामा अनियमितता र भ्रष्टाचारको निरन्तरता
Read last week's analysis : SEE results, +2 options and Addressing corruption in higher education
All analysis read by this link : Education This week