Kathmandu - This week there was nominal news regarding educational matters as the media continues to focus on Covid pandemic and political affairs. The rise of COVID cases and posed life risks across the country was the primary issue covered in the media throughout the week.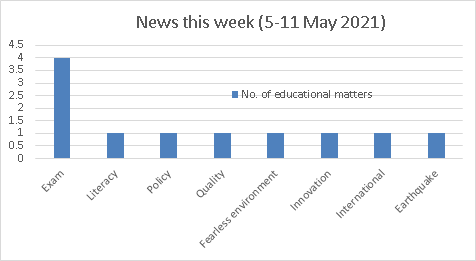 - News stated that the government has decided to postpone the final examinations of Grade 10, also known as Secondary Education Examinations, and Grade 12 till further notice owing to rising cases of coronavirus in the country and the prohibitory orders issued in 63 districts across the country. The letters to the editor expressed their concern for this year's SEE exam, suggesting to cultivate the culture of learning from each other and adopt alternative methods for examinations. It also further wrote to coordinate with Nepal Open University to adopt the highest level of technology as the university has moved forward accordingly and there has never been any problem in examination.
- Another news reported the uncertainty of scheduled examinations across SEE, grade 12, and MBBS entrance procedures.
- An opinion article expressed that reconstruction of hundreds of schools severely damaged by earthquake provides an opportunity to rethink the role of public learning institutions in community life. It stated the need for questioning old assumptions of the educational system while envisioning schools as an engine for innovative child learning that are rooted in practices of true community sustainable development. While modern school buildings have replaced many old buildings in the process of reconstruction, the author alerted the need to focus beyond technology and aesthetics into creation of space that support social emotional learning and holistic child-centered pedagogy. The article stated consideration for creation of a physical build environment that supports dynamic relation between teachers and children for holistic growth of all. It suggested development of learning pedagogy based on the discovery process that stems from a different approach to learning about nature and biodiversity, where a child can know more about him/ herself and the nature by exploring, through guided supervision. The writer suggested extension of nature-based Social-Emotional and Environmental Education Development (SEED) framework by Prof. Deborah Carter from Boise State University, Idaho for the development of locally tailored curriculum. It also suggested the need for reconsideration of the Education for Sustainable Development, or ESD, a field of learning championed by UNESCO, while developing curriculum and pedagogy. It suggested that climate action has become a more and more central role in the overall ESD framework and with the recognition of the importance of youth activism and youth participation in fighting climate warming, there is an urgent need for schools to embrace multidisciplinary curricula that impart practical knowledge.
- A news report stated that Rs. 46 million will be spent in 51 community schools of Sindhuli District under the Presidential Educational Reform Program. The Education Development and Coordination Unit has stated that the money will be spent on construction of classrooms, toilets with drinking water, establishment of computer laboratory, library and science laboratory, innovation in education, enhancement of learning materials and achievement and arrangement of special schools in the schools selected by the Ministry of Education, Science and Technology. According to the unit, out of 575 schools in the district, 51 are covered under this program. A government official was quoted stating that monitoring will be intensified to ensure proper utilization of the allocated funds.
- A piece of news reported that a school teacher was arrested on the charge of raping his 14- year old student.
- An international news report reported that 50 lives were lost in girls' school bombing in Kabul. The blasts targeted Afghanistan's ethnic Hazaras who dominate the Dasht-e-Barchi neighborhood, where the bombings occurred, stated the news.
- A letter to the editor expressed concern for the mental health of children with increasing use of internet, mobile phones and television. It further suggested that teachers and parents need to focus on the physical and mental health of children through a natural setting learning environment.
'Education this Week' is a joint effort to analyze the press coverage of education in Nepal's selected print media published in Kathmandu (Online scanning was stopped due to the shortage of staff time from last week - apologies with the readers). The main aim of this effort is to identify and explain major education issues picked up by the media and give back and foreground the news. This, we believe, will help policy makers and other responsible people to keep abreast with ongoing concerns and discussions on and around education. EduKhabar, in collaboration with the Center for Educational Policies and Practices (CEPP), has produced this analysis based on the news printed in Kantipur (Nepali) and The Himalayan Times (English) between 5-11 May 2021 (22-28 Baisakh, 2078) - Editor.