Kathmandu - Dissolution of parliament by PM was major news this week in all the media. As a consequence of it, Ruling party-NCP got split and Minister for Education had to give resignation due to rival factions. Calling the move of PM as unconstitutional, nine different student organizations were reported having meeting to hold agitation and demonstrations across the country.
In addition to the resignation of the Minister for education and the student movement, this week, amid the devastation of COVID, notable news and articles on school education and higher education were published in various media.
According to a news report, Kathmandu Metropolis has reached conclusion that schools within the Kathmandu Metropolis will not be reopened immediately. Similarly, schools in Baitadi and Kanchanpur district closed again after teachers and health worker was tested COVID positive.
With the opening and closing of the school, the news was found stating school education in chaos and tensions rises among students and parents because confusion about when and who will take the SEE has emerged, class 9 and 11 student registration has stopped and SC didn't made any decision in the writ against the curriculum framework which has impact from pedagogy to assessment of millions of students.
An opinion article stated that the education sector which was hard hit by the pandemic has become further disoriented due to the tug of war between the new and old curriculum of class eleven. The writer further stated that the proposed standard of 7 subjects in class 11 and 12 was against the international norms including in neighboring countries, and that this additional hassle in difficult times, should have been avoided. It also stated that the policy makers did not put in consideration the fact that 50% of students fail to succeed even in the present 5 subject curriculum standards.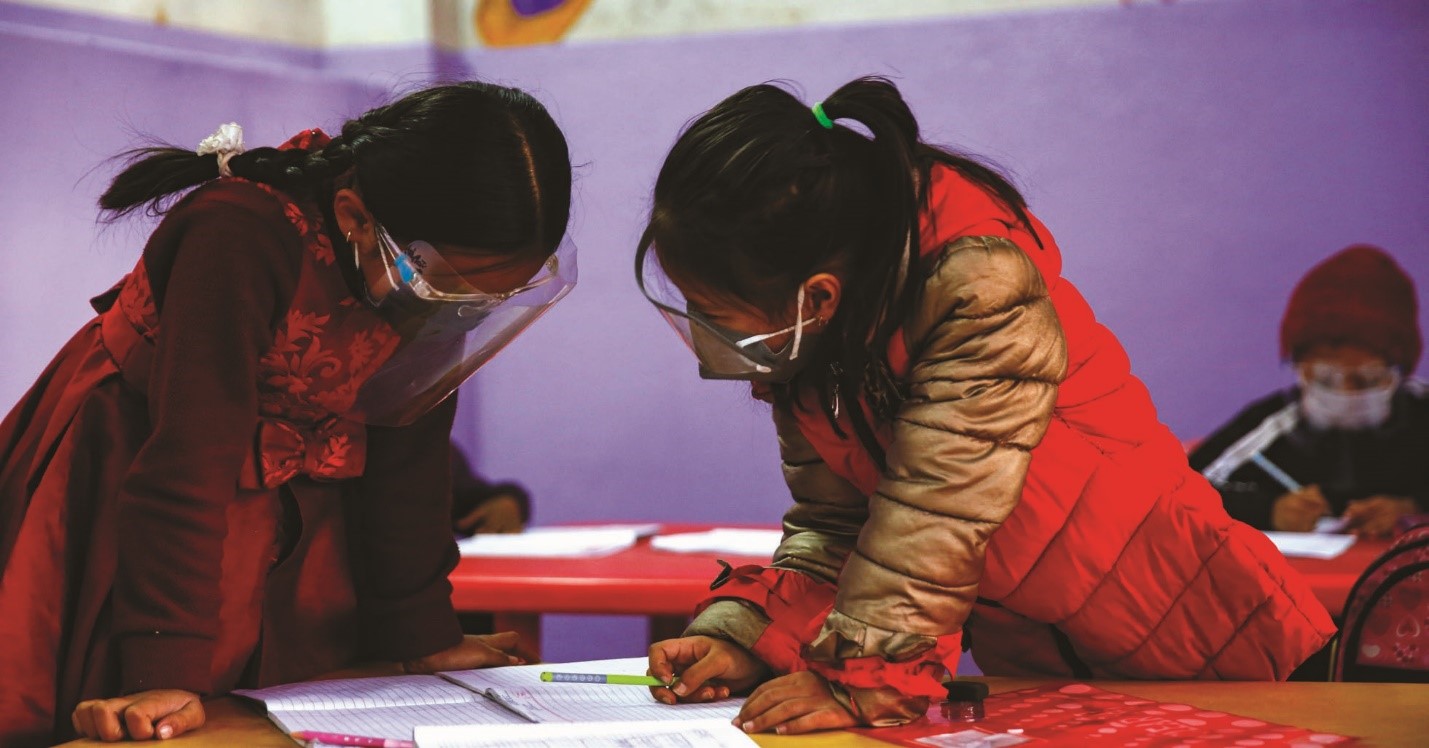 Figure : A pictorial report of Grade I students wearing face masks and face shield as a protective measure against the spread of the coronavirus disease, interact inside their class in a Chhetrapati school in Kathmandu posted on the front page of The Himalayan Times on 18 December 2020.
Some effort from the Government in Education was also reported in the news. It was reported that the MoEST has started a pilot project to provide free internet and communication services to students and teachers of community schools, with support from Nepal Telecom and also the Center for Education and Human Resource Development has started matching teacher's posts from this week to adjust the teacher-student ratio in community schools across the country. In the first phase, 184 posts have been matched at inter-district and inter-local level stated the news. Similarly, 1,131 posts will be cut from Kathmandu, Lalitpur and Bhaktapur districts alone. It has quoted a study that found that there were more teachers to students' ratio in urban areas and fewer teachers in rural areas due to long-standing mismatch of posts.
It is mentioned in the news that Aathbishkot Municipality of Rukum West district has been investing students from poor families deprived of technical and higher education to prepare skilled manpower in the area.
A school in Ilam will be teaching Bantawa language for the first time, news reported this week. Chisopani Secondary School of Mangsebung RM of Ilam district will run classes in the indigenous language. It has selected a teacher for the classes with financial assistance of the local body. This is another example of better utilization of authority that local governments have.
However, the news on scholarship amount for Dalit and deprived students frozen annually due to neglect of the Province-2 Government to make a scholarship directory and dormitory for Dalit Students in Birendranagar Muncipal, Surkhet district has not been built for 11 years due to insufficient budget sent by the Government time and time again indicate the unequal treatment in education by the state.
In higher education, the news stated that part-time professors of Tribhuvan University, who have not been paid for their online classes, have started protesting at the Vice-Chancellor's Office. They have been boycotting classes and exams since last week, calling for equal pay for equal work. Professors of affiliated campuses across the country are participating in the sit-in the news reported. There are about two thousand part-time professors in TU. Other news stated that professors close to the former CPN-UML locked up the Agriculture and Forestry University demanding the resignation of the VC which is seen as ripple effect of dissolution of parliament.
An international news story on dozens of schoolboys who were rescued from kidnappers in northwest Nigeria was also covered in the media this week. The repetition of abduction incidents of more Islamic school students but are quickly rescued in the same area, have highlighted the insecurity in northern Nigeria. This news also highlights the seriousness of the issue to secure protective learning environments for students.
Other international news stated that about 100 teenager students rallied in northern France on Friday to pay homage to a transgender student who killed herself this week after facing tensions with school officials for wearing a skirt to class, a case that has drawn online indignation and national attention to the issue of gender identity.
An opinion article stated that a multi-sectoral approach is required to improve the entire education system for making schools more inclusive. It also recommended establishing a whole Government approach to education where stronger and more empowered education ministries can forge collaborations and partnerships with other relevant ministries that might have a mandate and the expertise to ensure that children with all types of disabilities can grow and thrive.
The need for a School-Parent Partnership Framework in each school was highlighted in an opinion article stating that during the pandemic period, schools can prepare a draft of the framework to rejuvenate their teams by making them savvier than before about handling different online teaching tools and digital information.
Other news of the week are: School building inauguration in Manthali Municipality; Nepali student gets scholarship to study at Swiss college; TU convocation Ceremony completed without Chancellor and Vice Chancellor; TU will not giving winter holidays; SC seeks Government explanations on Scrapping 10% customs duty on imported books and The completion of British College's online virtual graduation program.
Abbreviations: COVID- Corona Virus Disease, RM- Rural Municipality, TU- Tribhuvan University, MoEST- Ministry of Education, Science and Technology, TUSC- Tribhuvan University Service Commission, NGOs- Non-Governmental Organizations, TUSC- Tribhuvan University Service Commission, CDC: Curriculum Development Centre, ECD- Early Childhood Development, PDF: Portable Document Format, UGC- University Grants Commission, NIC: National Information Commission, SAARC- South Asian Association for Regional Cooperation, NCP- Nepal Communist Party, PM- Prime Minister, SEE- Secondary Education Examination, SC- Supreme Court, CPN-UML- Communist Party of Nepal-UML, VC- Vice Chancellor,
'Education this Week' is a joint effort to analyze the press coverage of education in Nepal's selected print and online media published in Kathmandu. The main aim of this effort is to identify and explain major education issues picked up by the media and give back and foreground of the news. This, we believe, will help policy makers and other responsible people to keep abreast with ongoing concerns and discussions on and around education. EduKhabar, in collaboration with the Center for Educational Policies and Practices (CEPP) , has produced this analysis based on the news printed in Kantipur (Nepali) and The Himalayan Times (English), Dailies and online news portal SetoPati, NayaPatrika and My Republica between 16-22 December, 2020 (1-7 Paush, 2077) - Editor.
Read this analysis in Nepali : सधैं विवाद र द्विविधामा शिक्षा