Kathmandu - Impact of Government's preventive measures against potential Corona Virus Outbreak was discussed in the media in schools as exams were scheduled earlier than planned for most of primary and secondary class. Different news about higher education, discussion on policy and federal government's call for voluntary teachers where covered this week. News on continuation of physical punishment in schools made it in this week's news too.
Abbreviations: MoEST- Ministry of Education, Science and Technology, TU- Tribhuwan University, IOM- Institute of Medicine, TUSC-TU Service Commission, KD-Kantipur Daily, THT- The Himalayan Times, PM- Prime Minister, CTEVT-Council for Technical Education and Vocational Training, KMC- Kathmandu Metropolitan City, SMC- School Management Committee, VC- Vice Chancellor
- News stated that ruling and opponent political parties shared among themselves position of Vice-Chancellors of different Universities. Ruling Nepal Communist party and opposition party Nepali congress had shared 21 official positions of universities including 6 university VC positions. Congress received 7 official positions including 2 VC positions. Positions of universities such as VC, Registrar, Rector, Service Commission Chairman, Office Chief where shared among the party. PM had suggested the Education minister to suggest the names for VC only after consultation between parties.
Such deal between political parties happening out in the public, illustrates the state of normalization of corruption and misconduct among political parties. This definitely justifies the news from this week that more students are applying to study abroad than previous years.
- Gandaki University was reported to run courses from present fiscal year. Recently appointed Chancellor of the university, stated that as directed by law, 'A Board of Trustee' will be formed which will buy land and begin courses in the next 6 months. He also stated that the appointment procedure of Vice-chancellor, Registrar, Dean has already begun. Gandaki Province has established the university with the provision of Board of Trustee instead of appointing political representatives as the lead of the University. Chancellor also informed that discussion with relevant private sector and industries for collaboration has already begun. The courses that are relevant to the province will be prioritized such as courses on tourism, social science, hospitality, hydropower, science and technology stated the chancellor. He stated 23 members' Board of Trustee structure was to ensure that there is no political interference in the institute.
This is a great blow to the federal government and national political parties that were reportedly interfering with process of appointment of university officials. Such example from different levels of government could finally shame the central government and politicians to mend their ways.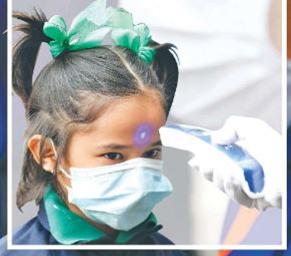 Figure: Masked Student being tested for body temperature before entering the schools in Kathmandu, reported in 8th March,2020 in Kopila section on KD
- Exams till class 9 began this week earlier then scheduled as a precaution from potential Corona outbreak situation as instructed by MoEST. Thirteen countries have already shut schools effecting 290 million students internationally. Prolonged crisis may threaten right to education stated UNESCO director.
- New curriculum in schools was announced by the Curriculum Development Center - CDC that prioritized on mother tongue and Nepali language as medium of instruction. The new year's curriculum presented by the CDC suggest mother tongue and Nepali to be the primary medium of instruction. It has also prioritized local curriculum in the statement. It instructs that Nepali should be the primary language of instruction for subjects that deals with social studies, human values and character education, Nepal studies, cultural and ethnic values. This is going to affect the public schools teaching in English medium and private schools as well. Previously, English was permitted to be the language of instruction starting from class 1. English will remain to be a compulsory language from class 1 to 10. Curriculum development Center representative stated that the recommendations were based on international research, public consultation, and multiple studies and recommendations from academic experts that concluded mother tongue or the language commonly used in the community would be the best language for medium of instruction in school than English medium. From class 4 to 10 English can be the medium of instruction for Math, Science and English language only while other subjects should be taught in mother tongue, common language of the community or Nepali.
- Bagmati province gave school bus to 25 public schools. Commitment to make public schools competent to private schools can be seen in this effort. The focus of government on other issues than quality can be realized too. This is an effort by provincial government; this can be seen as an attempt to ensure public schools retain students that they are losing to private schools rapidly specially in the province.
- An opinion article titled 'Troubled Higher Education' stated that Higher Education regulations against the international norms could impact the value of Nepali certificate in international academic arena. The text book limited teaching method can't be sufficient for higher level of learning as it gives no space for participatory discussion and research based scientific learning procedures. This can be linked to the fact that many years of intervention in the university has taken place by considering nonacademic political issues rather the focusing on academic excellence or student's welfare stated the author. Internationally higher education institutes are regarded as the economic incubator for the nation. Shouldn't professors take the responsibility on the degraded state of higher education institute as we fail to conduct participatory approach of teaching and take all program opportunities to private institutes, stated an academic expert in response to this article by past official of University Grand Commission.
- The federal government's announcement to appoint thousands of temporary teachers in schools without clear procedure has been seen as its attempt to discredit local government. Local governments have committed to file a legal case against the federal government in the issue for acting against their right ensured by the constitution stated the writer in the letter to the editor.
News stated that Nepali students attending colleges in Australia increased by 33.5% and that Nepal is still standing as the third largest source for foreign student even after the government made it difficult for students to pursue higher education in Australia due to financial cost. The rising number of students going abroad is an indicator to the loss of trust among students on the institutes of higher education in Nepal. It was reported that Singa rural municipality is going to begin classes in 'Khas language and culture' in school from this fiscal year. A social science teacher of private school was arrested after she allegedly forced 34 students of Grades VI and VII to slash their wrists as a punishment for scoring poor marks in a class test.
'Education this Week' is a joint effort put to analyze the press coverage of education in Nepal's selected print media published in Kathmandu. The main aim of this effort is to identify and explain major education issues picked up by the media and give back and foreground of the news.This, we believe, will help policy makers and other responsible people to keep abreast with ongoing concerns and discussions on and around education. EduKhabar, in collaboration with the Center for Educational Policies and Practices (CEPP) , has produced this analysis based on the news printed in Kantipur (Nepali) and The Himalayan Times (English), Dailies and Himal Weekly(Nepali) between March 4-10, 2020 (Falgun 21-26, 2076)- Editor.