Kathmandu - This week there was nominal coverage about education in the media. Reports about arbitrary fees by private medical colleges continue to be covered including lack of actions from the government. Reports about lack of government support in primary schools in rural areas, and public calls for extension of academic session for this year were reported in the media.
- News stated that a Dalit community operated Budhiganga Municipality-based Montessori Basic School in Bajura has been facing a serious financial crisis for a long time after the government failed to respond to their call for support. The school has been left in a lurch also due to lack of physical infrastructure and human resources. The head teacher of the school had stated that the government had given permission to operate the school, but the school did not get any other support. The school is operated by 51 people from the Dalit community.
- One of the opinion articles articulated the rising interests in entrepreneurial education in Nepal. Another opinion article expressed that the perception and process of scholarships is haphazard in Nepal. The article suggested focusing on massive communication strategies about the existence of scholarships and how they are managed. It suggested campaigns on radio, TV and the Internet could be one of the ways to raise the level of accountability nationwide.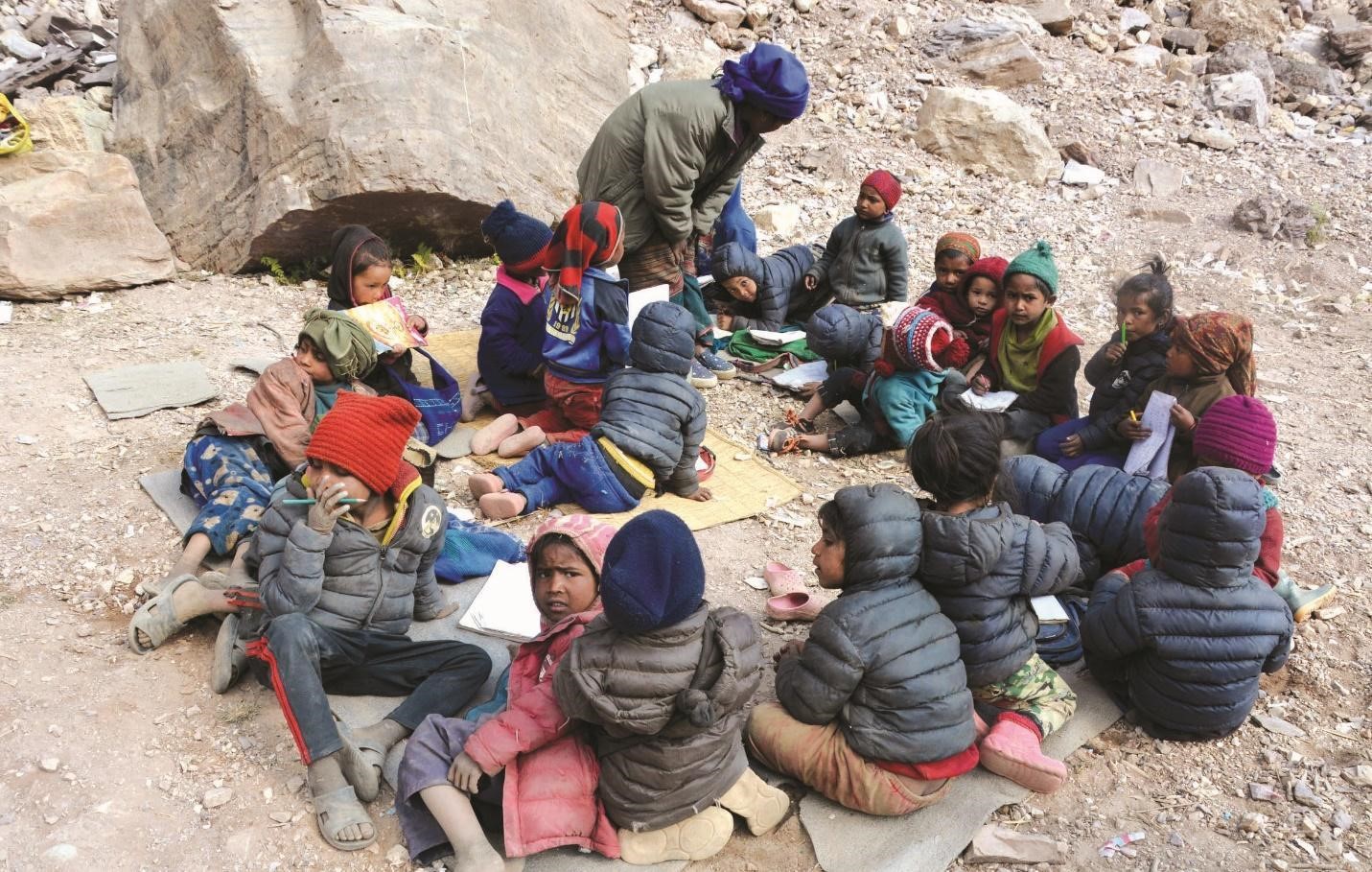 Figure 1: A pictorial report of schoolchildren forced to study on open muddy space in Dhorpatan Municipality, Baglung as reported in The Himalayan Times on 4 February 2021.
Even though students need to have proper infrastructure for learning, the open sky (outside) learning should also not be perceived as being backward. The studies also recommend that outdoor learning can be a transformative educational tool. International examples and experiments like forest kindergarten in the Netherlands, show that children at younger age prefer and learn better when learning is planned outdoors. Above all, the most positive thing is that there is a teacher with them and children don't look frightened!
- News stated that Private and Residential Schools Association (PABSON) has demanded to extend the current academic session till April-May (Baisakh) or May-June (Jestha). Whereas, multiple letters to the editor also expressed their concern for the loss of the present academic year. An opinion article suggested that if the classes can be regularized from Falgun (February-March), there will be four months for reading apart from the examination and the current session can be concluded with minimum loss. One of the letters to the editor wrote that the present academic session will be completed without proper learning experience for students if the academic session does not extend.
Private medical colleges taking higher fees than permitted continues to be reported in the media this week.
- News stated that Kantipur Dental College has charged additional fees of more than Rs 800,000 from the students affected by the Covid Pandemic situation. Parents and students expressed that the college has arbitrarily charged fees from BDS students in the name of examination, internship, medical council and registration fee. Whereas, another followup news reported that the college which has been charging extra fees from students, has not even paid minimum salary to faculty professors.
Injustice from private medical colleges continues to be frequently articulated in the media and the actions by the government to prevail these circumstances from happening has rather been absent. However, some opine that when education can be run as an enterprise, it's normal that the price is set by the market through an invisible balance between demand and supply. Many public educational institutions are on the verge of closure where the government spends millions. People complain for higher fees in for-profit private schools instead of seeking to improve them. People demand for wide roads, electricity etc but hardly demand for a good public education. It's ironic that people seek legitimate and/or illegitimate ways to earn more to afford their children's education rather than making efforts to improve them. The private school and college operators taking arbitrarily fees from parents and students even in this Covid pandemic crisis have also been published in the media regularly.
- Other news included Detailed Project Report (DPR) of Butwal Medical college under 'one province one medical college' policy by the government still not made in the past two years of announcement, preparation of online entrance exams for medical and engineering colleges in India.
Other matters included in the media were about students and schools in Kathmandu valley affected due to general strike by CPN Dahal-Nepal group. A piece of news reported that the school informed the district children's organization in Butwal sub-metropolitan city about the incident of a girl student who had been suffering from sexual misconduct from her father. The news stated that the student spoke to the teacher after the teacher noticed the fear in the student.
Abbreviations:
COVID- Corona Virus Disease, RM- Rural Municipality, TU- Tribhuvan University, KU-Kathmandu University, AFU- Agriculture and Forestry University, MoEST- Ministry of Education, Science and Technology, TUSC- Tribhuvan University Service Commission, NGOs- Non-Governmental Organizations, TUSC- Tribhuvan University Service Commission, CDC: Curriculum Development Centre, ECD- Early Childhood Development, SEE- Secondary Education Examination, SC- Supreme Court, VC- Vice Chancellor.
'Education this Week' is a joint effort to analyze the press coverage of education in Nepal's selected print media published in Kathmandu (Online scanning was stopped due to the shortage of staff time from last week - apologies with the readers). The main aim of this effort is to identify and explain major education issues picked up by the media and give back and foreground the news. This, we believe, will help policy makers and other responsible people to keep abreast with ongoing concerns and discussions on and around education. EduKhabar, in collaboration with the Center for Educational Policies and Practices (CEPP), has produced this analysis based on the news printed in Kantipur (Nepali) and The Himalayan Times (English) between 3-9 February 2021 (21-27 Magh, 2077) - Editor.
Read this analysis in Nepali : मनोमानी शुल्क, विवाद सधैँ सामान्य