Kathmandu- This week the media engaged around Secondary Education Examination (SEE) that started this week. The media also continued to publish follow-up and updates on corruption and irregularityrelated stories in medical education. Education policy news about a proposed bill for free higher education for disadvantaged students, proposal for 'National Teaching Council, governments' plan to call for twenty three thousand additional vacancies for secondary level teachers were among other stories covered this week.
SEE exams started this weekgetting the highest coverage in the media this week.All provinces had separate sets of question papers for the six compulsory subjects while questions for optional subjects were same throughout the nation. Some 475,000 students from across the country were reported taking SEE this year. There were more girls than boys attending SEE exams.
As per the new education provisions, local levels are responsible for conducting examinations up to Grade VIII, provinces for conducting exams till Grade X, and National Examination Board(NEB) for conducting Grade XI and XII exams (although constitutionally all rights rest to local bodies, they are said not to have capacity to administer).
Stating lack of preparedness by provincial governments, this year, Grade X questions were organized by NEB. The number of girls appearing SEE from community school is way higher than the girls taking exam from private schools, stating the still prevailing gender inequality in the community.64% of the students appeared from community schools while 36% appeared from private schools. It was reported that number of students attending SEE from public school decreased by 11,700, while there were 9,100 students increase who were attending SEE from Private schools. It was also reported that only 33.22 per cent of the total students from private schools were girls. There were high profile attendees of SEE including parliamentarian and celebrity actress.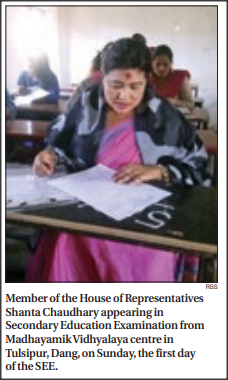 Figure 1: The picture published in The Himalayan Times was also followed by editorial stating increase of adults taking SEE after the no fail policy.
An editorialin The Himalayan times'Testing time' stated that there are more girls this year in SEE exams then boys, however, the bulk of the girl students taking exam are from community schools which are cheaper, and learning-teaching process is also inferior to the private schools. Quarter of these students, most of them from community schools, are unlikely to step foot in college because of poor grades. It stated it as a colossal wastage of resources that the government has put into their education as well as time spent by the students and teachers in schools. It also called for ensuringsuch students beequipped with needed skills while leaving school after Grade X.
It should be noted that ensuring quality in public schools nowwillalso contribute to gender equity in future. While the editorial marks public schools as cheaper and inferior in general, it highlights how public schools can be a tool to social equity among different population of the country. It has re-established that the private schools are creating context of unequal opportunity and that there is no option to improving public schools for all to ensure a just and equal society in the future.
There wereMultiple follow-up storieson the case of corruption by private medical colleges. These colleges were reportedly told to return extra fees charged from students within 30 days and make arrangements for students to get second chance for exam to those who weren't allowedto sit in the exams for not paying extra fees. A meeting was held between Ministry of Education, TU, representatives of students and medical colleges in Kathmandu that concluded these suggestions.
The issue was discussed in the parliament as well. While there were new reports of Vice Chancellor trying to avoid taking action against the college, doubts of involvement of TU authorities and political protection were also openly discussed in media. Though the classesalready started by the end of the week, the case was reported to be further investigated by the Education and Health Committee of the Federal Parliament. In the meantime, the police havealso started mobilizing special investigative forces to hold the absconding operators of Gandaki Medical College into account. New case of corruption in the medical education sector was also reported.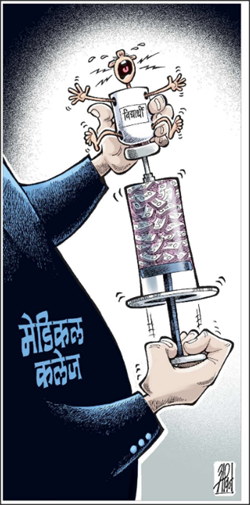 Figure 2: The cartoon published in Kantipur express the intent of private medical college systematically taking extra fees illegally under different headings
It was reported that youths smeared soot on Education Development and Coordination Unit doti Chief, Ananta Kumar Poudyal. Issuing a press statement, Nepal Student Union revealed that Poudyal was involved in irregularities. Poudyal had offered to contract for building construction and repairs in exchange for 10 per cent commission. The statement also accused Poudyal of misusing his power by appointing contract teachers for commission and his involvement in irregularities related to revenue and selection of superintendent for the examination as per the political quota. Poudyal was also accused of giving the bank account to head teachers of schools to deposit the commission amount.
The increasing number of news where students are taking action against different forms and corruption in education sector could be considered a positive direction, for students taking coordinated and responsible action for the welfare of education reform. With the state of action in case of irregularities in medical education sector is taking new directions, news of students taking direct action against irregularities.
There were three major news stories relating to teachers this week. It was reported that the government is planning to create 23,500 additional vacancies for secondary level teachers in a bid to improve the quality of education in community schools. It was aimed to balance the ratio of teachers and students in community schools. As per the ministry the existing quota was not sufficient to impart quality education in community schools. This was a long awaited step taken by the government. It is to see how the procedure of the appointment of the news teachers is going to be executed. It also ensures, that the quality of the public school is taken seriously by the government, though it is yet to be seen how it ensure the federal structure in this process.
Three-year contract was made a must for principals byByas Municipality, Tanahun. The new rule requires principals of community schools to sign a contract before being appointed in the position. Following a correspondence from municipality towards the end of the last fiscal, each community school in the municipality had recommended a name for the post of the principal to the municipality. The municipality, through the Municipality Education Committeee, has started appointing principals by making them sign a three-year contract. 55 out of 80 community school principalshave signed a contract already. It was intended to make principals accountable to their jobs.
These innovative approaches by the municipality ensure, the principle is accountable to the local government and that local mechanism can be mobilized to ensure quality of education in public schools.
The government has proposed the concept of 'Nepal Teaching Council' for identification and registration of personal capable and interested in teacher profession. It is proposed in the 'Federal Education Draft Bill 2075'. It intends to systematize the process, support development of the profession, regular evaluation and certification of teachers, while also ensuring higher value of the profession in the society. It will also coordinate teacher's entrance program. The draft act recommends it to form the work ethics of the profession, and 'Teacher Professional Competency Standards'.
Regarding government's preparation to impart primary education in the mother tongue from the next fiscal year, the ministry stated the government was preparing primary level textbooks in 25 languages to ensure children's right to education in mother tongue. It should be noted that government experts all the time seem to think of text books first over everything when it comes to mother tongue. The problem lies in understanding and acceptance of the mother tongue education by the concerned before there are textbooks. It is later reported that such books have been lying in store unused!
A new Bill proposes free higher education in varsities for poor students. Some Nepal Acts Amendment Bill on Education tabled at the Federal Parliament has proposed free higher education in all universities, including Tribhuvan University (TU), and their constituent colleges for students who meet the prescribed eligibility criteria. It states any student, who is financially poor and is a Dalit and disabled, shall be eligible to enjoy free higher education in universities and their constituent campuses throughout the country. It was reported that it would be applicable in TU, Kathmandu University, Nepal Sanskrit University, Purbanchal University, Pokhara University, LumbiniBoudha University, Far-western University, Mid-western University and Agriculture and Forestry University. A person who does not have any income and is not capable of supporting himself or herself for higher education shall be considered a financially poor or disadvantaged person. Similarly, the bill has eased the process of removing vice-chancellor, rector, registrar and chairperson of university commission. If a university assembly submits a written application to the chancellor for removal of a VC, rector, registrar or chairperson by one-fourth members of the assembly stating that he/she has not fulfilled the responsibilities of his/her office or that he/she has not maintained the decorum of office, the chancellor may give an order to form a three-member probe panel led by any member of the assembly. Other members of the panel include a member of University Grant Commission and secretary at the Ministry of Education, Science and Technology.
However, it should be noted that many acts are passed by the parliament proposed by the government in a hurry. Issues such as this one should have widely consulted before it is tabled in the parliament. It would be good to have one comprehensive act rather than many bits and pieces of acts here and there and get themselves conflicting among themselves.
'Education this Week' is a joint effort put to analyze the press coverage of education in Nepal's print media published in Kathmandu. The main aim of this effort is to identify and explain major education issues picked up by the media and give back and foreground of the news.This, we believe, will help policy makers and other responsible people to keep abreast with ongoing concerns and discussions on and around education. EduKhabar, in collaboration with the Center for Educational Policies and Practices (CEPP) , has produced this analysis based on the news printed in Kantipur (Nepali) and The Himalayan Times (English), Dailies, Himal Weekly(Nepali) and BBC.com(international online portal)between March 20-26, 2019 (Chait 06-12, 2075) - Editor.

Read this analysis in Nepali : एसईई, शिक्षक र भ्रष्टाचारका सवाल
Read last week's analysis : Corruption in medical education, Innovations by Local Levels